Housing association Malmö Värnhem 13 with organization number 769623-0312 was formed in 2011 and consists of 52 condominium apartments and 3 rental premises. The property was built in 1936 and has four staircases at the addresses Vårgatan 3A-C and Östervärnsgatan 10. The house consists of 5 floors, basement and attic. Heating of stairwells and apartments takes place with water-borne heat from a common boiler.
Parking
| | | |
| --- | --- | --- |
| Type | Quantity | SEK/month |
| Car parking, garage space | 13 | 850 |
| Car parking, facade site | 4 | 650 |
| Motorcycle, garage space | 3 | 425 |
| Bicycle, garage space* | 8 | 100 |
| Pram, garage space | After space | free |
* Free bicycle parking is available in the courtyard
You do not have to be a member or resident of the association to rent a parking space. For parking, a queuing system is applied, where the association's members have priority in the queue. Subletting of parking spaces is not permitted. To join the queue, send an email to the info email.
You can also stand on the streets around the house. If you meet the conditions, you can apply for residential parking via Malmö municipality.
Intercom
The intercom is connected to the resident's mobile phone. When someone calls via the intercom, you answer as a normal call. When you then want to open the gate, you press square.
To enter a new phone number or change an existing number for the intercom, email first name, last name, apartment number and phone number to the info email.
Laundry room
In the house there are two laundry rooms that were renovated in 2009 and 2010.
Booking cylinder is unfortunately not something that the association has in stock. It is up to the member himself to procure a new one if he loses, damages or breaks the one he was provided with when moving in.
Boards for booking appointments can be found in the Ö stairwell.
Laundry room 1 is equipped with two washing machines, a dryer, a drying cabinet and a drying room.
Laundry room 2 is equipped with two washing machines, a tumble dryer, two drying cupboards.
For more information about the rules and procedures that apply in the laundry rooms, refer to our Welfare Rules which you can find via "Documents".
Inner courtyard
In the association's inner courtyard, which is a common space, there are two areas with seating and associated furniture. Residents are encouraged to use the patio and barbecue.
Here, too, we would like to refer to our Welfare Rules, which you can find via "Documents". Please note that smoking is not permitted in common areas, except in designated areas.
On the farm there are also bike racks and a small house intended for waste collection containers.
Collection bins
In addition to household waste, the association also collects food waste, glass, paper, cardboard and plastic.
Larger packages should not be placed in the association's collection bins, but taken to the return station located 200 m away, at Nobelvägen 147M, see map below.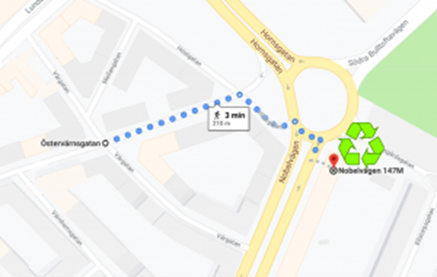 Storage
All apartments have their own basement storage.
Broadband/TV
Group agreement regarding Broadband (100/10) and IP-TV (12 channels) is delivered by Bredbandsbolaget and is included in the rent. You therefore do not need to sign an agreement for this if you do not, for example, want more channels or other services. When moving in, you contact the broadband company for activation and at the same time receive a router sent.
Condominium supplement insurance
The association has a group agreement on the condominium supplement, which, among other things, insures damage to neighbors' homes should one suffer water damage, for example. This is not something you want to have double of, so cancel the supplement in your home insurance if you haven't done so, and you'll save up to a hundred Swedish kroner a month.
Colors
The walls: Flügger flutex 7S carlsson white, gloss 7 (matt)

Ceiling: Flügger flutex 2S white base 1, gloss 2 (full matt)

The doors: Flügger interior high finish classic white base 1, gloss 40 (semi-gloss)
Blinds
You will find the largest range of aluminum blinds at Jysk .
Elements
Replacement and ventilation of elements needs to be done by the house's plumber. For more information, write to the infomail.
What is the member responsible for?
In Brf Värnhem 13's bylaws, which you can find under the "Documents" tab, it states that the member is responsible for the "inside" of the apartment. This means:
The walls, floors and ceilings of the rooms

Furnishings in the kitchen, bathroom and other spaces that belong to the apartment

Glass in windows and doors

The apartment's outer and inner doors
RENOVATIONS
2023
Roof renovation

New construction of 6 attic apartments
2022
2018
Renovation of shop premises 2 to make it more attractive
2017
Safety lamination of glass on shared balconies

Installed emergency escape door from the garage that connects to the stairwell under the Ö staircase

Renovation of shop premises 3 (the corner premises) to make it more attractive to tenants

8 new bicycle parking spaces in the garage
2011
Rejoining of the facade

9 new balconies were built, 12 existing ones were renovated

New windows (2-glazed in PVC)

Renovation of stairwells and gates

New heat exchanger unit and control and regulation equipment

Electricity: new main switchboard, apartment switchboards and risers. Also rewiring apartment electricity and completing sockets, lighting and electricity in common areas.
2010
Replacement of tap water mains and sewage mains
2009
Electrical installations in common areas were changed
The page was updated: 2023-08-17